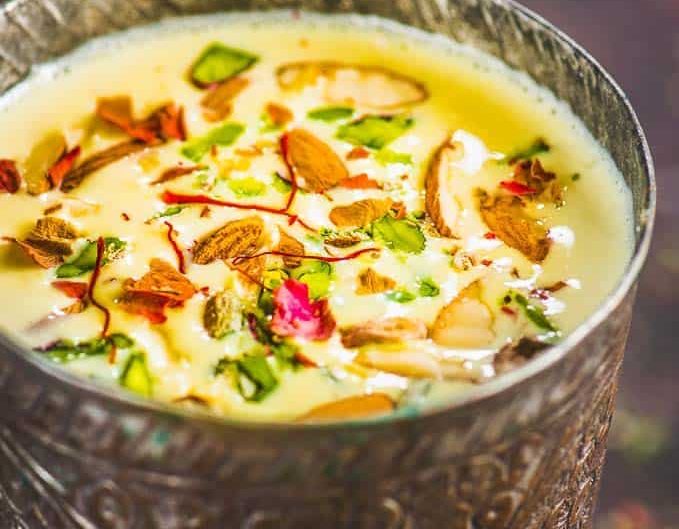 Badam Kesar Milk
Badam Kesar Milk is very healthy & tasty drink. Best part is you can enjoy it in winter as Hot and in Summer you can enjoy as Cold Milk shake.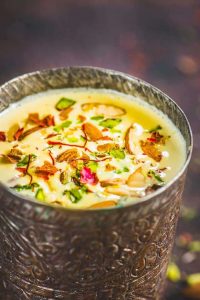 Benefits of Badam Kesar Milk:
Saffron is an effective tonic to treat cold and fever
Promotes Memory Retention
Relieves Menstrual Cramps
Almonds contain lots of healthy fats, fiber, protein, magnesium and vitamin E. The health benefits of almonds include lower blood sugar levels, reduced blood pressure and lower cholesterol levels. They can also reduce hunger and promote weight loss.
Saffron is rich in plant compounds that act as antioxidants. Antioxidants help protect your cells against oxidative stress. Saffron also helps to treat symptoms of mild-to-moderate depression.
Badam Kesar Milk Recipe :
Ingredients :
Milk, Soaked Almonds, Stevia(as per taste), Cardamom, Saffron, Pistachio.
Procedure :
Soak almonds in hot water for 10 minutes.
Remove the skin of almonds and add them in a blender along with 1/4 cup of milk.
Grind them to make a smooth paste.
Heat milk in a heavy bottom pan.
When the milk comes to a boil, add almond paste and saffron soaked in milk.
Simmer the heat and let it cook for 20-25 minutes.
Add stevia(if needed)and cardamom powder and cook for another minute.
You can serve the badam milk piping hot or can chill it in refrigerator before serving.
I personally like chilled version.
Garnish with pistachio slivers and saffron strands
For full detailed recipe video click here
Please follow and like us: